General, Antique and Collectable Sale
{{Antsaledate.data[0].date}}
Viewing times on week of sale: Friday 12 noon - 6 pm
and Saturday from 9 am
Sale starts 10 am
General, and Collectables Sale
{{GenSaledate.data[0].saledate}}
Viewing times on week of sale: Friday 12 noon - 5 pm
and Saturday from 9 am

Sale starts 10 am


Border Auctions Ltd is a family run business situated at Hawick in the Scottish Borders.
Our team are experienced in the field of antiques and are available to give you the seller a valuation service.
Using our web site gives you a chance to browse through our catalogue as it is compiled for the next sale. Therefore you will not miss out on the item you have been searching for.
On the other hand if you are looking for something special to buy, auctions are a fantastic source of many interesting items and rare lots.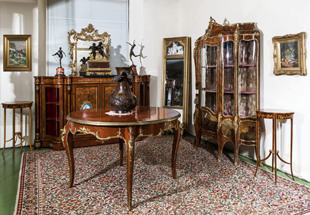 Random selection from the Sale
Forthcoming General, Antiques and Collectables Sale

We are now taking entries for the general, antique and collectables sale to be held
Saturday 27th May 2017
This sale is now closed for General Items
Furniture, ceramics, glass, paintings, clocks and watches, jewellery, silver and silverplate, stamps, postcards, collectables etc
We can collect or you can deliver direct to our sale rooms situated in Garfield Street, Hawick
Vendors commission is
General 30% of hammer Price
Antiques 15% of the hammer price
Payments are made approximately 21 days after sale
BUYERS PREMIUM:
Buyer's premium is 20% Antiques Sale and 25% General Sale to be added to the hammer price
VALUATIONS:
We offer a valuation service on antiques, furniture and collectable's for a fee.
COLLECTIONS & DELIVERIES:
We can arrange to collect your items for auction or deliver items purchased at the auction if required, depending on the location and amount of items.
The price for this service varies. see our General Terms and Conditions
Regular Sales of Antique Furniture, Ceramics, Glass, Pictures, Clocks, Jewellery, Silver, Collectables Etc
We are always looking for all types of antiques for our auctions. If you have anything to sell, single items or complete estate clearances
Please contact us
We can collect or you can deliver direct to our sale rooms situated in Garfield Street, Hawick.
Open 10am to 4pm Tuesday to Friday